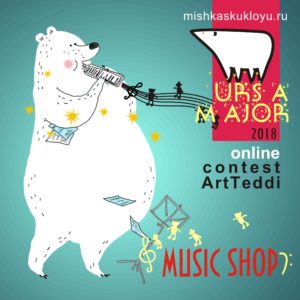 MISHKA S KUKLOYU (BEAR WITH DOLL) exhibition is announcing a contest for Doll and Teddy Bear makers for the award of «Ursa Major" (the Great Bear).
The theme of the competition in 2018 is «Music Shop».
There will be seven nominations in this contest:
1. Music literature
2. The notes.
3. Musical instruments
4. The musical style
5. MusicDrive
6. Debut
Execution techniques:
You can submit a teddy bear or any other animal made out of any material (examples: papier-mache, textiles, metal, ceramics) as long as long as you preserve 5 rotating elements of classic teddy; head, arms and legs. You are free to choose any style and any execution technique.
Conditions: We invite artists from around the world working in any genre of puppetry, technique, material and style to participate in our contest. In order to be enrolled in the contest, please submit an application (free format) to mishkaskukloyu@mail.ru. The participation fee in the amount of $20 must be paid before October 10, 2018 into our PayPal account, which will be provided to you once your application is received. Every additional nomination will be another $20.
Photos of the submitted work must be emailed to mishkaskukloyu@mail.ru by October 15, 2018. Please include a note about the competition, your full name, title of your work, and description of the work (material and size) in your email.
Photo requirements: clear, sharp and well-lit photos of your work in four angles: full face, profile, rear view and 3/4. Photos of the works will be anonymously provided to the jury. Authoritative and professional jury will choose the most expressive and vivid images.
Criteria for evaluation:
1. Expressiveness, stylistic decision
2. Uniqueness of authorship, skill
3. Harmoniousness, color solution, relevance of parts and accessories.
The winner of the competition will be announced at the opening of the exhibition on October 27, 2018. The winners of all 7 nominations will receive a prize — "Ursa Minor" (the Little Bear). The jury will select a winner out of these 7 artists to also receive the grand prize — an "Ursa Major" statuette and a certificate. Each participant will receive a video master class «Modeling hands and shoes for a Teddy-doll».
The distinctive feature of the contest «Ursa Major» is freedom of creativity, innovation, expressiveness, artistic solution of form and essence.
Members of the jury of the contest "Ursa Major"(the Great Bear) 2018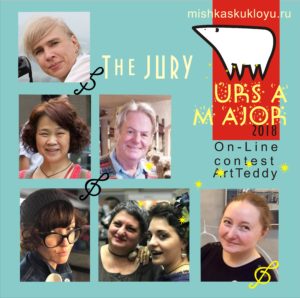 Vlasova Vera (Russia) — Artist, artist on the bears, a member of the Union of Artists of Russia, winner of the Teddy competitions. harmonious proportions and magnificent decor are typical for the works of this artist. Faith is invited to the jury of the most significant contests Teddy bears around the world. You can be sure that your work will be appreciated    https://www.facebook.com/vera.vlasova.507
Maria and Svetlana Zabrozky (Lithuania-Russia) — The creative duet of Mom and Daughter, for many years, has surprised and amazes spectators with mysterious images. Their magnificent art projects are an adornment of any exhibition and a striking example of harmony of form and content.  Participants of many international puppet exhibitions including two exhibitions in Japan as representatives of European puppet art. Maria and Svetlana are authors of many different art projects. They have been collaborating with the puppet gallery «Vakhtanov» for many years.  https://www.facebook.com/Sonadorka
Chieko Hazeki (Japan) — Gallerist, President of the Union of Puppeteers of Japan «Team Koyaala», the organizer of the exhibition FANTANIMA  https://www.facebook.com/Fantanima/
Sebastian Marquardt (Germany) — Organizer of exhibitions TEDDYBÄR TOTAL and International Puppet Spring in Münster (Germany) and Hugglets in London (England).  Publisher of German magazines about puppets and teddies «TEDDYS kreativ» and «PUPPEN & Spielzeug» and a book «UK Teddy Bear Guide». http://teddybaer-total.com
Zhirenkina Alena (Russia) — Artist, jury member   https://www.facebook.com/alena.zhirenkina